Baby Massage Instructors Course
With over 22 years of experience carrying out massage and developing the Baby Massage Instructors Course for the safe practice of Baby Massage you are in safe hands for this qualification. My nursing and teaching background ensures a sound knowledge in anatomy, physiology and pathology required for the safe teaching of Baby Massage to you so that you can safely practice in the community.
This course takes baby massage to a new level of understanding the bond between parents and babies and how you can help facilitate that precious journey.
Massage has been used for thousands of years; a simple rub to a sore area on a child's or adult to 'make it better' is a form of massage. Mothers have known how to massage babies for years with the tradition being passed down through the generations.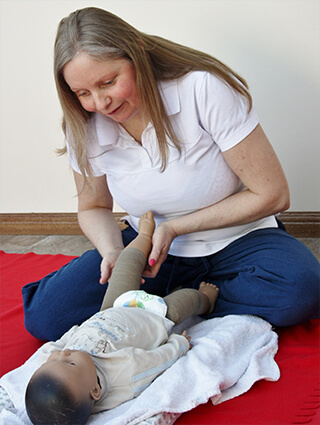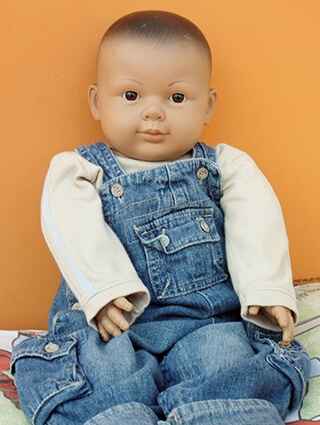 In the Western world we often see touch as wrong, find it uncomfortable to carry out and no longer hug each other as much as we should. Babies who are starved of hugs and affection do not thrive; they are more aggressive and violent than those whom are given plenty of hugs and positive touch/love. Baby massage is simple, free to do and it will benefit both the parents and the child.
Research in Miami has shown massage to be of great benefit in preterm babies helping them to gain weight faster, lowering stress hormones, aiding sleep and giving the parents more confidence when handling their child. Baby massage helps with bonding, relaxation, colic and constipation, sleep, pain relief, strengthening primary systems, confidence, support and postnatal depression.
This course will enable you to safely teach baby massage to parents and other carers, have evidence based knowledge through reading the research articles that can be accessed through the NHS e-library and carry out individual and group sessions with parents and babies. You will also keep a reflective diary of these events.
The course runs for four days and includes the learning of the theory and practice of baby massage. The first 3 days can either be run in a block of 3 days or on the same day over 3 consecutive weeks (depending on location). The practical sessions are carried out between the last teaching day and the fourth day which is a minimum of 16 weeks apart, to allow you to carry out your group work and one to ones in your local area.  You then come back together for day 4 to discuss how practice has gone and review strokes and have your final practical assessment. 
An introduction to baby massage

Reflexology points

Attachment theory

Songs

Infant cues

Carrier oils used for massage

Massage

Evaluation forms

Different types of massage strokes

Insurance

Group work skills

Working for yourself

Learning styles

Marketing classes

Contra-indications

Codes of ethics and conduct

A 5 week course plan

Research abstracts and articles

Massage strokes

Reading List

The benefits of baby massage for both baby and parents

Running group or individual sessions

Medical conditions/special considerations

Introduction to reading research papers

Toddler massage

Baby massage sequence with pictures
Homestudy (100 hours plus 30 hours for written assignments), including reading research articles and books on baby massage.
Portfolio to include: Preparation of teaching sessions and materials (handouts), scheme of work and weekly lesson plans, marketing materials for classes and completed parental evaluation forms. Gaining knowledge of different teaching and learning strategies.
Workbook containing the answers to the 11 questions set.
Reflective Diary (minimum of 1500 words). This is about your experiences of teaching baby massage. Please teach a mix of individual and group sessions include how you set the sessions up, how you felt they went, what benefits (if any) the parents and babies got out of them, if you would have done anything differently. If there were any difficulties how did you over-come them. Feedback from the evaluation forms should be included within the diary. This should be at least 1500 words and a minimum of 5 parents and 5 babies over 5 teaching sessions and at least 3 sessions as a one to one with the same family.
Day 4 Assessment day. This is a chance to catch up with your class, discuss how your courses and one to ones have gone and have a practical assessment.
For safe practice this course requires a qualification in Anatomy, Physiology and Pathology. If you do not have an Anatomy and Physiology qualification, do not worry a course is available to home study for an extra fee of £150, you will be able to access extra study days on anatomy, physiology and pathology when they run.
A soft bodied doll will be required for the course and can be obtained from Touch-needs at www.touchneeds.com 08456 123226.
The cost of the 4 day course is £500.
The course can be run locally to you if you have 6 plus people to attend.
What people are saying about the course
Helps me understand babies and mums needs more – it has really added to my knowledge in Early Years
It will enhance my practice and help with early bonding
Helps with diversity of practice – knowing parents and their issues better
Learned a lot of interesting things, it was presented in a way I could understand
It has been very good, informative, good balance of practical and theory
It is the most supportive course I have done. At each stage Karen was encouraging