With over 22 years of experience carrying out massage and developing the Baby Massage Instructors course for the safe practice of Baby Massage you and your baby are in safe hands for these sessions. My nursing and teaching background ensures a sound knowledge in anatomy, physiology and pathology required for the safe teaching of Baby Massage.
Babies love to be cuddled and be spoken and sung to, baby massage brings positive touch. Baby massage is usually carried out after the babies 6/8 week doctor's check until they can roll over; this ensures that all is well with the baby before a full baby massage sequence is carried out. Before 6-8 weeks the baby may not like to be undressed and they lose heat faster the younger they are, it may be possible to massage their hands and feet and to use holding techniques to help calm them.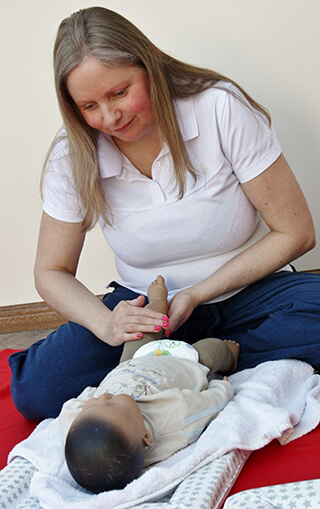 Positive touch
Better understanding of baby's needs
Confidence in handling babies
Can help with bonding and attachment
Gives one to one time with baby
The interactive songs can help with babies language development
Both mum and dad can do it (as can older children/grandparents/ carers)
It's relaxing for both parent and baby
Massage can lower the stress hormone cortisol, helping improve the immune system
It can help with sleep, colic, constipation and teething
It's free, simple and fun
Meeting other parents and babies
If your baby has additional support needs or a medical condition, this does not always stop them having massage, permission should be sought from the doctor/consultant looking after the baby and the movements and positioning can be adapted to suit the baby. Please contact me directly to talk over the best options for you to carry out baby massage.
Baby massage can be carried out in groups or on a one to one basis.
Group sessions are carried out over 5 weeks and last 1½ hours. Research carried out by Stirling University (2015) on 'A Good Start' programme developed by Midlothian Sure Start and which I was team lead on, showed that a longer group session allowed time for the baby massage strokes to be built up at the babies pace over the 5 weeks. It also allowed for nothing to be rushed and time at the end to get to know other mums local to the area and discuss issues relevant to them.
One to one sessions can be carried out in your own home and are carried out over 3 sessions. Home sessions take about 1 hour.
You need to bring:
Yourself and the baby(s)
A towel
The changing bag
A bottle of milk if not breastfeeding.
I will provide:
50 ml of 100% pure cold pressed sunflower oil
Instruction sheets for taking home including – massage strokes, songs and foot reflexology points.
Certificate of attendance
A relaxing time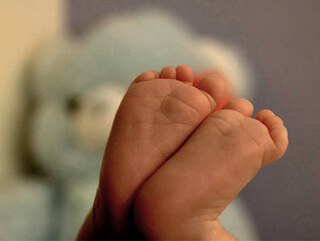 A note on the oil used – cold pressed sunflower oil – this is safe for the babies to put in their mouths, if they get oil on their hands, as there are no essential oils in it. With little aroma it does not interfere with the pheromones that both parent and baby produce and use for subtle bonding. It is less likely to be an allergen as it is not a nut oil.
If your child has eczema please speak to me to make sure your cream is suitable to use for baby massage (it usually is).
If your baby is due their immunisations up to 3 days before the massage sessions, let me know and I will bring a spare doll as the babies need to process their immunisations and baby massage should not be carried out at this time. But by still attending the group you can practice on the doll or just cuddle the baby, learn the new stokes so you can do them when baby is ready and still be part of the group.
Prices
Group 5 weeks £50 per family (Dads, grandparents, twins welcome)
1 to 1s 3 weeks £90 per family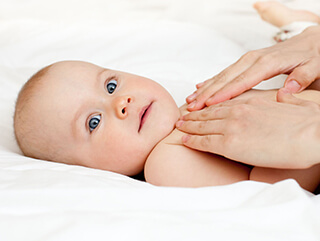 Part of an antenatal group in Midlothian, East Lothian or Edinburgh? And want to do Baby Massage together as a group? Contact me and arrange a 5 week block in your home with your antenatal friends, host receives a discount.