Relax, de-stress and boost your energy levels with a Reiki session.
Reiki (Ray-key) means 'universal life energy' and is an ancient form of Japanese healing that works to restore the natural balance of energy within the body. It's holistic, good for relaxation and stress reduction and has a positive impact on our physical and emotional health. It can improve our sleep, boost our immune system, and enhance our health generally
Reiki is safe for everyone to experience, at all ages and stages of life. From pregnancy, new-born, elderly and those with medical conditions, treatments can be adapted to suit the individual at that moment.
Developed by Mikao Usui in the late 1800s and introduced to the west in the 1940s, we have been benefiting from the healing powers of Usui Reiki for years. It's a relaxing treatment that involves the practitioner laying their hands gently on or above the body of the recipient to enable universal life energy to flow from one to another.
There are three levels of Usui Reiki:
• First Degree/Level 1 is for self-healing and enables practitioners to work on others that are physically present.
• Second Degree/Level 2 adds power to the healing ability and enables practitioners to heal over a distance.
• Third Degree/Level 3/Masters level increases the healing power further and, if teaching is included, enables practitioners to attune others.
Anyone can benefit from a Reiki treatment, but to become a practitioner, you must first be attuned by a Reiki Master. It's a powerful spiritual process that connects you with the Reiki source and places Reiki symbols in your psyche. Once attuned, you'll benefit from and be able to give Reiki forever; it never fades or leaves you.
Karuna Reiki® evolved out of Usui and Tibetan Reiki and was developed by William Lee Rand and other healers at the International Centre for Reiki Training in 1995. It acts on a much deeper level than Usui Reiki and will leave you feeling more relaxed and with a deeper healing experience. Due to its deeper healing action, if you wish to train in Karuna Reiki, you must already be an Usui Reiki Master.
What to expect at consultations
During your Reiki session, you'll remain fully clothed and can position yourself however you feel comfortable, whether that's lying down under a blanket or sitting up in a chair. It's a gentle treatment that's not painful. In fact, you'll feel relaxed and calm throughout and may even fall asleep.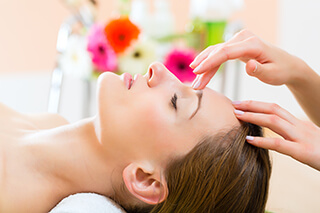 Anyone can feel the benefits of Reiki including babies, pregnant women and the frail or ill.
Full session (45 to 60 mins) £35.00
30 min session £25.00