Reproflexology/Fertility (Male and Female)
Developed by Barbra Scott-Brunger at Seren Natural Fertility, Reproflexology™ or Reproductive Reflexology has assisted those that wish to become parents to work towards optimum health for conception and pregnancy.   
The words most often heard from couples who are struggling to get pregnant or maintain a pregnancy are – "Everyone seems to be pregnant or have a baby so why can't I?"   Yet 1 in 3 couples find it difficult to conceive, with 50% of infertility problems down to the male. The stresses involved in trying to get pregnant can be great, from internal pressure to external pressures of people asking why are you not pregnant yet?, work stresses and stress to have sexual intercourse and forget about how fun and loving sex can be.
While assisted conception has helped many achieve the goal of parenthood it can be expensive, stressful and all consuming. Reproductive Reflexology can help support this journey and destress both partners at a fraction of the cost. Reproductive Reflexology can be used to enhance your natural cycle and alongside conventional medicine e.g. Clomid and assisted cycles IVF and ICSI.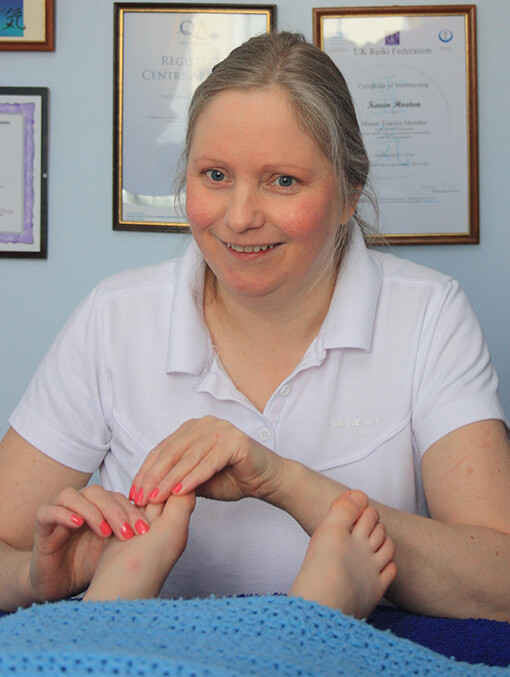 I am happy to see you at any stage of your fertility journey but ideally 3 months before you are trying to conceive – this allows you both to be in the best possible health before conception takes place. It takes 3 months for sperm to mature.
As a fully qualified Reproflexologist™, Naturopathic Nutritional Therapist and Homeopath, I will use a combination of these to provide a holistic approach to conception and pregnancy.
What to expect at consultations
Before your first consultation you and your partner will be emailed a questionnaire that will form part of the discussion on your first visit. Please fill it in as fully as possible and a copy of any test results should be obtained and brought with you.
Ideally the first visit should be a joint visit with both partners, this will be an information collecting and planning future sessions consultation. It may last up to 2 hours depending on the complexity of your case. Future appointments will last 1 hour 15mins and will consist of an update on progress and Reproflexology treatment, it is recommended that these treatments are carried out weekly to start with moving to fortnightly as the cycle regulates.
You will be asked to sit on the couch slightly reclined and once comfortable only your feet are exposed for reflexology. Concerned about getting on the couch? Please let me know and we can adapt where the reflexology is carried out if required.
You may be asked if you wish to temperature chart (thermometer provided at initial consultation) this is helpful allowing us to see what is happening during your cycles.
Any supplements recommended incur an additional cost.
Sperm Testing (The SpermComet test) from Lewis Fertility Testing is also available to check the DNA in the sperm head.
First appointment (up to 2 hours) £60.00
Treatment sessions (1hr 15min) £35.00
3 treatments booked and paid for in advance £95.00