As any working parent will understand, juggling work and childcare is a challenge. And, for me, as a single mum in the early 90s, it was the one of the driving forces behind moving from Edinburgh's Royal Hospital for Sick Children where I had trained and staffed as a children's nurse to the world of complementary therapies. It was a move I made over 25 years ago now, and I have never looked back; it's been fascinating, rewarding, and filled with endless learning opportunities.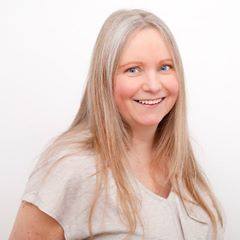 Your Therapist
Karen Hooton BSc (Hons) FFHom (Nurse) RSCN MIFPA MAR MARR C&G Cert.Ed
My complementary therapy journey
It all started with an aromatherapy night class in Edinburgh though that quickly progressed into a full aromatherapy course in Glasgow and to a love of gardening and growing medicinal plants. You can achieve great results with aromatherapy – see my aromatherapy page for details – but it doesn't suit everyone. So, to offer a more complete and personalised service to my clients, I progressed into the fascinating world of reflexology. It's a versatile treatment that can help with a wealth of conditions, with my specialisms now including Reproflexology™ (fertility), pregnancy, reflex lymph drainage (RLD) and baby and child reflexology.
But the learning didn't stop there. I jumped at the chance to complete my BSc (Hons) in Homeopathy at Edinburgh Napier University which then led to my Advanced Nurse Practitioner in Homeopathy qualification and my MFHom (Nurse). Homeopathy is now an integral part of my holistic approach and has helped many of my clients – find out more on my homeopathy page. I am a Fellow of the Faculty of Homeopathy and, since 2017, have been running the British Homeopathic Association charitable clinic in Edinburgh twice a month.
From 2003 to 2016 I worked for Midlothian Sure Start, first as a complementary therapist, working with the parents and children in both group and one to one sessions, introducing complementary therapies to them then, when NHS Lothians Health Improvement Funding (HIF) funding criteria changed, as their Healthy Living Co-ordinator.
I looked after all things 'health' and was involved in a variety of activities including the running of cooking and weaning groups for parents and the production of a healthy recipe book. I was also part of strategic groups for mental health awareness, and I am preserved forever in an NHS weaning film!
One of my main successes though was my involvement in the award-winning programme, 'A Good Start'. I managed, developed, and trained students to deliver the nine-week course of baby massage, weaning, play, baby brain and baby first aid. Awards included:
The project was evaluated positively by Stirling University – Parents' perspectives of a universal early attachment programme in Scotland Health Promotion International, Volume 32, Issue 6, 1 December 2017, Pages 1015–1024 https://academic.oup.com/heapro/article-abstract/32/6/1015/2951031
In 2008 Midlothian Sure Start also won the Integrated Health Care Award of which I was part of the leading team. https://www.princeofwales.gov.uk/sites/default/files/…/Annual%20Review%202008.p… page 38
Continued Professional Development
Professional Development (CPD) has always played an important part in my learning journey. I carry out over 100 hours of extra learning per year across all subjects to ensure I can provide the best care possible for my clients. It's a never-ending journey…
Whether things happen naturally straight away or take their time and require medical assistance, the journey to parenthood is an emotional and often tough one. Complementary therapies help with stress and relaxation and have a part to play at every stage of the process, but they are rarely available as a complete package, which means choosing one or repeating your story to many different practitioners, something which can be both tough and expensive – – visit my new fertility page to find out more.
My range of therapies, background in children's nursing and experience with miscarriages, still and traumatic births, mean I can provide parents-to-be with a holistic service that provides the support and treatments they need from pre-conception through to birth and beyond
Registered Sick Children's Nurse, Ediburgh (1989)
Diploma in Clinical Aromatherapy; Scottish School of Aromatherapy (1994)
Diploma in Classical Reflexology; The Academy of Aromatherapy and Massage (1998)
BSc Honours Degree in Homeopathy; Napier University & Faculty of Homeopathy (2002)
Usui Reiki Master; TSW Holistic Therapies (2009)
Diploma in Nutritional Therapy, College of Naturopathic Medicine (2011)
Level 3 award for First Aid at Work trainers; Abertay Training (2days)
Karuna Reiki Master; Linda Thomson (2013)
COSCA certificate in Counselling Skills (1996)
City and Guilds (7307) Further and Adult Education Teachers Certificate (1997)
Maternity Reflexology with Suzanne Enzer; Soul to Soul Reflexology x 4 days (2009)
Rhythm Kids; Touch Learn (2012)
Baby Sign; Touch Learn (2012)
Gentle Touch Reflexology for Babies and Children; Sue Ricks x 2 days (2013)
Nutrition and Fertility Expert course; ION (2014)
Reproflexology™ x 4 days (Parts 1 & 2); Seren Natural Fertility Training (2015)
Reflexology Lymph Drainage x 2 days; Sally Kay (2015)
I hold a full membership with the Nursing and Midwifery Council; the International Federation of Professional Aromatherapists; the Association of Reflexologists; the Association of Reproflexologists; UK Reiki Federation and am a Fellow of the Faculty of Homeopathy, each of the above governing bodies providing Codes of Conduct, Practice and Ethical Guidelines. I'm also a member of the CNHC register, fully insured and have an enhanced PVG certificate.